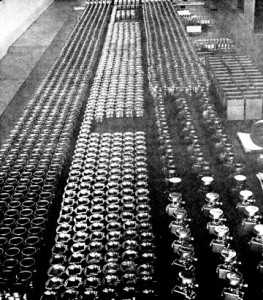 Fish Carburetors and Fireball Roberts not "super", just an improvement. Fish carburetors were not "super" carbs., but they were enough of an improvement that they were attacked, suppressed, and the business driven out of the country! Many now say they were mathematically impossible and unable to fulfill the promise of their design. Not only did they make big promises, they're components are not up to most standards.
Production line of Fish carburetors in Daytona Beach, Florida about the time the U.S. Post Office was returning all Fish carburetor orders to the senders with "fraudulent" stamped on their order. The Post Office claimed there were no carburetors actually being produced.
History
From 1947 to 1959 the Fish Carburetor Company of Daytona Beach, Florida manufactured over 125,000 high-mileage carburetors. The Fish carburetor averaged 20 percent better gas mileage and 30% more horsepower.
The Fish Carburetor was originally invented by John Robert Fish in America in the early Thirties. The carb works on pressure differential – not air speed, which means that it is almost instantly self adjusting & self compensating so any change in weather or altitude requires no adjustments or modifications as with conventional carbs. Hence all round suitability for cars, boats, aircraft, mountain or pressure charging use.
Instead of the usual one main fuel discharge point within the carburetor, the "Fish" has from SIX to TEN leading to vastly superior atomization and therefore much improved vaporization and since wet fuel DOES NOT burn (only the vapor), better and more complete combustion is ensured enabling more power to be extracted from the same amount of fuel.
The "Fish" was seen as a very serious threat to the "Original Equipment" establishment and could not be tolerated. J.R. suffered years of dirty tricks and persecution in an attempt to put him and his carburetor out of business. He even had his mail stopped on trumped up charges which were entirely UNTRUE and the case never went to court. It was simply a deliberate time wasting exercise to stop his cash flow and ruin him. He was not to be beaten and moved to Florida where he kept going by selling carbs to individuals including some wealthy big game fishermen.
At about that same time an up-and-coming local Stock Car driver got involved. The famous and almost legendary "Fireball Roberts" who drove the original M-1 car and Fish carburetor in place of the big 4 barrel "Works" carbs. that everyone else was using. He literally left them standing with his otherwise out-of-date car.
The "Works" organizations did not like it one bit and again the "dirty tricks" started. "Fireball Roberts" frequently made Pole Position and gained the trophy. Repeatedly, however, his race tires developed "mysterious problems" when leading the race convincingly. These "faults" suspiciously did not seem to occur in the "Works" cars.After this, they were only sold by a company in Canada which sold them in Canada and Europe.
The Brown Carburetor Company of Draper, Utah manufactured almost 10,000 new Fish-design carburetors from 1981 to 1996.
For more information on this, see http://fuel-efficient-vehicles.org/energy-news/?page_id=785