At Ross Carburetors we've operated with one basic principle since 1994:
"To provide the highest quality components
at competitive prices that meet or exceed our customers' expectations."
If You're Looking For a Way to Get More Horsepower Out of Your Engine Without Breaking the Bank…
..Then you need to give us a call. We've spent the last eighteen years developing the finest carburetors and components available, testing each product for proper idle, transition, and W.O.T. to ensure you receive the best and most user friendly product possible.

Most vehicles utilize carburetors which are mass-produced and installed as received from the manufacturer.  In most cases they perform adequately, but they usually don't perform at their full potential.  However, porting, polishing, and recalibrating fuel circuitry can provide a significant improvement in throttle response, top end power and overall driveability. We use our expertise to modify your carburetor, thereby, allowing your engine to perform at the optimum level for which it was designed.

When you're ready to improve the performance and driveability of your vehicle,  send me your engine/car specs. I'll insure that you're getting the correct piece for your requirements, and we'll use your specs to build a custom carburetor for your specific application.          Mike Ross
Or Maybe You're a Non-Racer Looking For Custom Carburetor Work…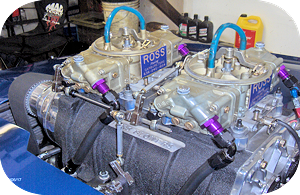 Although modified racing carburetors are the mainstay of our business, we pride ourselves in being able to provide any carburetor services required by our customers.
If you have a motorcycle or boat which you've stored for a long time, and now it runs rough or won't start…give us a call…we can get you up and running in no time.
If restoration projects are your passion,  we can restore your carburetor to original condition with respect to cosmetics and performance.
Whatever your project…we can help.
Why Choose Ross Carburetors For Your Project?
There are many custom carburetor shops out there…but there's a major difference in our products…we deliver on our promises! We discuss your needs and then deliver solutions for your individual needs. Bottom line – it's all about performance! Here are just a few of the reasons that make us the right choice:
Mike Ross (Owner) has over 18 years experience as a Fuel System Expert and is the only Authorized Lead Instructor for the Holley™ Carburetor Class.
All projects are completed 100% in-house…we don't use outside contractors
We re-use your core to reduce your project cost
We do re-color and cad plate (not zinc plate)
All of our pieces are made to bolt on and fly
Our turn around times set speed records
Our prices are the most competitive you'll find
We can handle carburetors for any application:  gas or alcohol, boat, tractor, dirt cars, race cars, motorcycles…even your everyday car
We work on projects of all sizes…no stock rebuild, restoration or conversion is too large or too small
We specialize in ALL types of professional carburetor preparation
No matter what the need, we have the solutions to your carburetor problems!
Give us a call at 636.294.9366. We know you'll be impressed with our prices and our performance.
                                             

Mike Ross – The Boss                                                                                                                                         

Mike has been a "motorhead" as long as anyone can remember, taking apart anything and everything to make them operate more efficiently. He continues to do the same thing today, only with engines and carburetors. Whether it's a rebuild, restoration or OEM, Mike works to make the operation more efficient and with increased power. Today he provides top quality services and will do everything within his power to deliver and exceed customer's expectations!

Give him a call

…