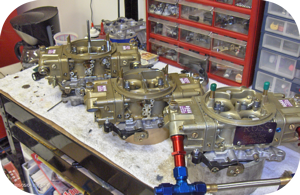 At Ross Carburetors, we are all about top engine performance and know that fuel temperature can result in a significant loss of engine power. We know that keeping a sufficient fuel supply to the carburetor improves delivery and helps engines perform. One remedy is to insulate your fuel line to keep it cooler. Using a heat-reflective material and wrapping the fuel line helps to keep the fuel temperature down… decreased fuel temperature means increased power.
Other Ways to Cool Fuel to Carburetors
Another means to reduce fuel temperature and increase engine power is through fuel-pump cooling. Heat transferred from the engine block to the fuel pump can cause rising gas temperature and reduced power.  An air source focused on the fuel pump can significantly reduce this transfer of heat from the block.
In addition, changing the fittings on the fuel lines to the fuel pump can be a simple method for improving performance. Suggested for the line to the fuel pump, you should use #10 fittings, and the exit fitting from the fuel pump should be at least a #8. This insures a sufficient volume of fuel to the pump, thereby, insuring a sufficient fuel supply to the carburetor.
This is just one of the ways to improve engine performance. Making these simple changes can have a significant effect on improving the overall performance and power of your engine.
Ross Carburetors has been in business since 1994 and enjoys a reputation of always delivering on any promise we make to our customers.  We will always do our best to get your job done and to always meet your expectations.
If you have a question about your carburetor and overall performance, whether it's a rebuild or brand new, please call us at 636.294.9366 and we'll do our best to help you out!